Sounding Boards Garden at Harmony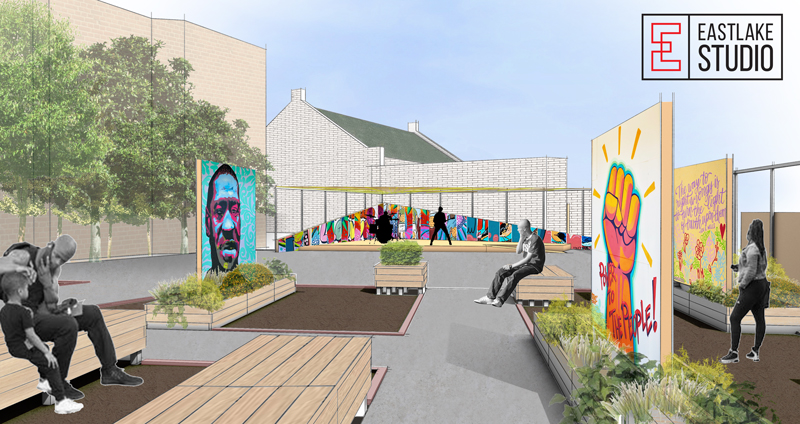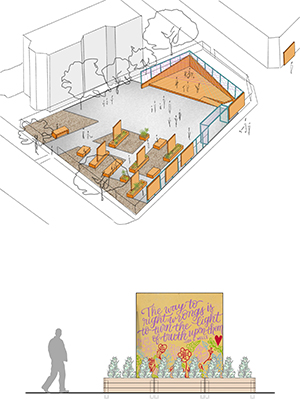 Sounding Boards, founded by Chicago architecture firm Eastlake Studio, is a non-profit organization that amplifies the voices of progressive artists through public art. Inspired by Black Lives Matter demonstrations in the summer of 2020, Sounding Boards brought artists and business owners together to create murals on boarded-up storefronts. Moving out of storage and back into public view, Sounding Boards murals will become Sounding Boards Garden, a new asset for North Lawndale's Harmony Community Church and its neighbors. Eastlake Studio, Sounding Boards, and GC partner Redmond have conceptualized this multi-purpose design intervention for the Chicago Architecture Biennial, opening on September 17, 2021. Sounding Boards Garden will include a stage for outdoor events and performances, an overhead shelter, planter boxes, benches, and landscaped borders made up of engraved bricks. This project will extend Harmony's community efforts past the walls of the church, and into the adjacent lot, providing the neighborhood with a flexible, open air space, to engage in cultural happenings, celebrate, reflect, and remember lost loved ones.

You can be a part of Sounding Boards Garden by donating a brick!

Engrave a brick with:
the names of donor companies and individuals
the names of deceased loved ones chosen by donor companies or individuals
You may also choose to donate the brick to a North Lawndale family or community member in memorial of a lost loved one. 
If you choose to do this, please click the box at the very bottom of the form.
 We are coordinating with Harmony and will help gather the info needed for each memorial brick. Or you can purchase both a personal brick and a brick for a North Lawndale family!
After you fill out the info here, please click to the next page and enter all your personal information.
When re-routed to the PayPal page, type the total amount owed where it says $0.00. That's $250 for each brick whether it's donated to a family or engraved with your own text. If you did both, enter $500. If you're purchasing more than 1 brick, enter the total amount assuming $250 each.
If you'd be so kind as to check the box to absorb processing fees we'd greatly appreciate it!
Take PayPal payment the rest of the way by entering your card information, etc. Afterwards, make sure you receive a payment confirmation AND separately an email confirmation for your brick order placement.
Spread the word! Share this with friends and family and tag us on social! @eastlakestudio (add yours too!)
Harmony Community Cares Harmony Community Cares (HCC) seeks to broaden the reach of Harmony Community Church, and to become even more inclusive and expansive in programming. The aim of HCC is to keep children in the North Lawndale community safe, healthy, and educated and assist families who are food insecure. Both the food pantry and programming for children began under the leadership of the church, which was founded in 1991 by Reverend James Brooks, Sr. and is a cornerstone of the community. On Sundays, pre-COVID-19, the church served between 200 and 300 worshipers under the leadership of Reverend James Brooks Jr. Redmond Redmond is passionate about building spaces that not only spark emotion for occupants, but also make a positive impact on the greater community. Founded in 2013 as a commercial interiors firm focused on tenant improvement and building amenities projects, Redmond delivers high-quality projects across a range of markets, including workplace, cannabis, lab and life science, and building amenity spaces. Eastlake Studio Eastlake Studio is an architecture and interior design firm focused on creating great places to work, play, and live. As creatives, it is our mission to use our resources and abilities to promote justice, unity, and inspiration. As a company and as individuals, we seek to facilitate opportunities for wellness and revitalization in Chicago and beyond. Over the last few years, Eastlake Studio has worked with Harmony's Pastor James Brooks years on making improvements to Harmony's 100+ year old building, including ADA compliance, renovating the sanctuary, and designing a commercial kitchen The Chicago Architecture Biennial The Chicago Architecture Biennial is an international exhibition of architectural ideas, projects, and displays hosted every two years. This year's Biennial theme is The Available City, led by Artistic Director David Brown, whose long-term body of research, including an inventory of vacant city-owned lots across the city, was first showcased in the inaugural Biennial in 2015. Expanding on Brown's project, this year's primary and ancillary exhibition sites will focus on how to reinvigorate Chicago's many vacant lots, particularly those on the south and west sides of Chicago. Follow us at @eastlakestudio @redmondconstruction @hcc1908 If you have any questions, please contact: Mia DiMeo mia@eastlakestudio.com 312-527-0200