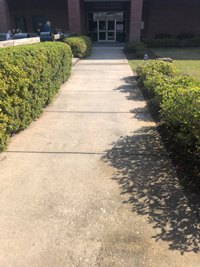 St. Johns Country Day School is renovating the main deck and Roddey R. Fisher quad. The deck and surrounding areas are used by every Spartan, every day. The space is not only the epicenter of our campus but also is an important extension of the classroom, where our students practice teamwork, creativity, communication skills, and more. Along with a newly renovated deck and quad area, a new brick walkway will connect the Lower School with the Middle and Upper Schools. This area is an integral part of the St. Johns Experience, and now you have the opportunity to leave a lasting legacy at the heart of our beloved campus.
Show your support for St. Johns and leave your lasting message by purchasing a brick to be paved into this walkway! Only $250 creates a memory that lasts a lifetime.
Orders received after July 7, 2021, will be processed, but pavers will be laid during December 2021.
If you prefer to pay by check, please use the following Order Form