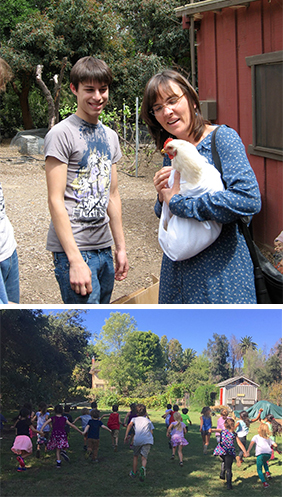 In November 2020, Heidi Johnson announced her intention to retire as head of The Waverly School at the end of the 2020 – 2021 school year. Heidi has been our long-serving Head of School, and we are tremendously grateful for all that she has accomplished during her 29 years of service to Waverly.
Join us in celebrating Heidi's retirement and contributions to The Waverly School by buying a brick to be used to create "Heidi's Path", a walkway at The Farm. The Farm is the project most near and dear to Heidi's time at Waverly. Hopefully, we will soon be able to buy the farm. And, when we do, we will install "Heidi's Path". Funds raised will go to the continual upkeep and improvements at the Farm, as well as the eventual purchase of the Farm.
Thank Heidi for her service to Waverly, recount a fond memory, memorialize your family at the Farm, write anything you like on the Brick.
The Waverly organic farm exists to allow students, their families, their teachers, and the broader community to engage nature on multiple levels. The scope of participation in the life of the farm is broad, ranging from active cultivation and organic production to inventive play, hands-on learning, and simple appreciation of nature. The farm also creates opportunities for elementary, middle, and high school students to interact in ways that nurture cross-generational mentoring, leadership skills, and social harmony. The intent is that the farm be inspirational, experimental, educational, and sustainable.
Children run, climb, dig, poke, observe, and actively explore a variety of existing environments. The essence of the space is that it is complex, protected, and ever evolving, which is valuable in and of itself and raises multiple possibilities, each worthy of pursuit. The farm continues to develop, grow, and nurture the community, as well as provide new and expansive uses from year to year.
If you prefer to pay by check, please use the following Order Form
If you have any questions, please contact:
Lillian Manzella
202-207-8792
wpopresident@thewaverlyschool.org