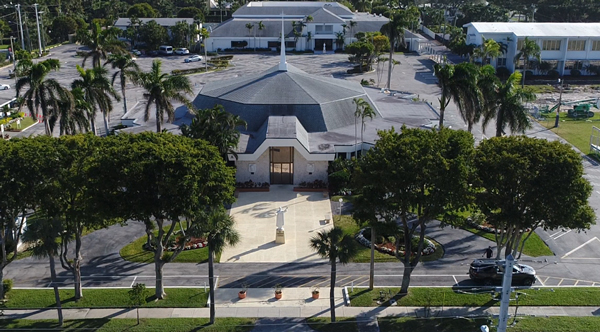 One of the oldest parishes in the diocese, St. Vincent Ferrer, consists of over 2000 families from many cultural backgrounds. Though the First Mass offered in Delray Beach is believed to have been in the home of the O'Malley Family in 1920, it was not until April 15th, 1941, that Father William Nachtrab (pastor of Sacred Heart in Lake Worth) offered Mass in the Delray Theatre for this new "mission."
It was around this time that St. Vincent Ferrer was declared a parish, and Father William Carroll became the first pastor. The first church of St. Vincent Ferrer Parish (later converted into a parish hall) had a seating capacity of five hundred persons. On April 26th, 1949, the first Mass in the church was celebrated by the pastor. With the continued support of many loyal parishioners, a renovation of several of the facilities has been undertaken. The parish now boasts a beautiful, permanent chapel for Perpetual Adoration of the Blessed Sacrament, and a newly enhanced youth center.
Currently, we are undergoing our most aggressive undertaking in recent history. The construction of the school addition, and subsequent addition to the church. We now have a unique opportunity to leave a lasting imprint in our spiritual home and school.
As an effort to raise money for our beloved school addition we are offering commemorative, personalized brick pavers that will be placed in the courtyard between the original school building and the new addition. (See the view plan attached). The laser engraved bricks are guaranteed for life, with permanent paint that will never wear away.
Please consider a memorial, commemorative, honorary, special date, scripture, Bible verse, or even a meaningful quote about faith to immortalize a family member, celebrate a child, or recognize a special person, group or professional organization.
Your brick will be a visible historical reminder for generations to come, and it will become a permanent part of St. Vincent Ferrer School.
All proceeds will go towards the schools addition and supporting costs.
Thank you for thinking about and supporting our parish.


Click Below to Order: