Brick Replacement Program
Brick Markers® USA, Inc. (BMI) offers a replacement brick program. Many organizations have worked very diligently to provide a successful donor brick walkway. The donors visiting your organization have the opportunity to view their custom engraved brick. Make sure your donor bricks last a lifetime.
How is your walkway aging?
Do you have bricks that your donors can't read?
Are your donors upset?
Have the filled characters begun to fade, chip, oxidize or peel and therefore have become illegible?
As time passes by, your donors want the assurance of knowing their brick will last a lifetime! Their custom brick is a small monument of pride. BMI has been approached by many organizations inquiring about the cost of replacing their current engraved bricks because of failure in the field, unhappy donors, overall appearance, etc. Although your brick campaign was successful, it is unfortunate that the walkway is not aging as you had anticipated. We sympathize with you and realize your brick/tile campaign profits were not meant to be utilized to replace your walkway. We want to help, by offering our replacement brick/tile program at a discounted rate. Brick Markers® warrants, through its written Lifetime Warranty, that its patented Vitralase®/Vitrix® vitrification processes will be of good quality and workmanship and will not fade, chip, oxidize, peel or separate from the brick, paver or tile for the life of the surface of the engraved brick, paver or tile. Brick Markers® guarantees that since the inception of our company in 1995, none of our engraved products have ever been or needed to be replaced due to engraving fading, chipping, oxidization, peeling or separation from any brick, paver or tile. We stand behind our product 100% and you can have all of the benefits of laser engraving at a price that is competitive with obsolete engraving technologies. Our laser engraving technology does not require any filler. The laser engraving process converts the engraved portion of the existing clay product into a hardened glass by the process of vitrification. Hence the engraving and brick product are still of one substrate. The hardened glass engraving and its color are both a result of 100% natural inorganic earth element materials. This is the ultimate in "Green" technology. No solvents, paints, plastics or VOCs (volatile organic compounds) are used in our process. The indelible engraving is actually harder than the brick itself. Clay brick and glass are two substances that stand the test of time!
BMI offers a lifetime guarantee on donor bricks and tiles!
Your brick/tile walkway will never be replaced again!
Virtually maintenance free!
From time to time you may require a light pressure cleaning. This will allow your walkway to have a pristine and clean look when carefully maintained.
Which project would you prefer?
Sandblast/paint filled engraving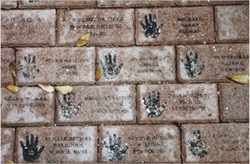 Brick Markers® patented laser engraving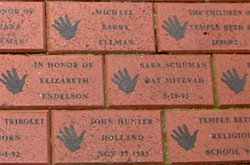 Here are images of an actual brick replacement project. The one on the left was sandblasted and paint filled and within three years of exposure the engraving began to fade and the text was illegible. They were replaced with our Vitralase® laser engraved pavers and are complete with our lifetime guarantee! We guarantee that our engraving will never fade, chip, oxidize or peel and is virtually maintenance free! Please contact us at 1-800-634-8948 and we will direct you to your customer service/sales representative that will assist you with your replacement brick/tile program! Please ask about our free sample.