BMI Press Releases
Program generates $40,000 a year for Lambeau district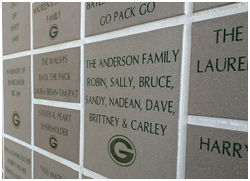 Lambeau Field commemorative brick and tile sales have slowed since their introduction in 2003, but still are providing about $40,000 a year toward stadium operations. The Green Bay/Brown County Professional Football Stadium District said Monday that sales from the beginning of the program through May 31 were $1.5 million.
Greg Kuehl, a program consultant for the stadium district, said annual sales are between $60,000 and $70,000 a year. "Sales have remained strong, but not at the pace experienced during the grand opening of the renovated stadium in 2003," Kuehl said. "It's not peanuts. We think it's still significant."
The stadium district nets about 60 percent, the rest going toward the manufacture, installation and maintenance of the bricks and tiles.
Money raised through the sales supports stadium district operations.
Kuehl said fans have purchased 12,338 items, including 7,341 for installation at Lambeau Field. The bricks and tiles cost $75 to $2,500.
He said the district continues to sell the items on its Web site, through e-mails and at special events, such as the Green Bay Packers' annual shareholders meeting.
Fifty-five percent of sales are from Wisconsin residents, though orders have been received from every state and several countries. Green Bay residents have accounted for 20 percent of in-state sales.
The stadium district is responsible for paying back the money borrowed for the $295 million Lambeau Field renovation. The payoff is funded by a 0.5 percent sales tax in Brown County.
The district reported that through May 31, 2007, tax collections totaled $8.3 million. The cumulative total tax collected since 2001 is about $125.8 million.
The tax could be retired by 2014, said Patrick Webb, executive director of the stadium district.