BMI Press Releases
Sales Exceed $1.5 Million Dollars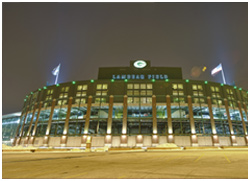 GREEN BAY, WI -- The Green Bay/Brown County Professional Football Stadium District today announced sales results for its commemorative brick and tile program, which was launched January 14, 2003. The program enables fans or businesses to have a brick or tile with a personalized inscription installed at Lambeau Field; replica products are also available for direct shipment to an address specified by the purchaser.
Through May 31, 2007, gross sales equal $1,502,505. There have been 8,350 orders placed for 12,338 items--7,341 for installation at the stadium and 4,997 for replica products. Items sold include 8,232 bricks and 4,106 tiles.
Greg Kuehl, Program Consultant for the Stadium District, stated that, "Sales have remained strong but not at the pace experienced during the grand opening of the renovated stadium in 2003. However, fans remain interested in the program and purchase items to memorialize a loved one or commemorate special events such as: weddings, anniversaries, birthdays, and holidays like Mother's or Father's Day and Christmas."
"The geographic distribution of orders is interesting and truly shows that Packers fans are everywhere", said Kuehl. He noted that, "Although the State of Wisconsin accounts for 55% of the orders, items have been sold in every state and several foreign countries. We are very pleased that there have been 3,784 out-of-state orders contributing 46% of our program's revenue." Within Wisconsin, sales display exceptionally strong local support. Kuehl reported that, "There were 1,039 orders from Green Bay accounting for over one fifth of the revenue from in-state sales."
Pat Webb, Executive Director of the Stadium District stated that, "Net proceeds from brick/tile sales help accelerate retirement of the debt issued to fund the Lambeau Field renovation. Our program's success is largely due to the result of our excellent working relationship with the Packers. The Team has been very easy to work with regarding promotion, installation and customer service, and this working relationship has enabled the program to become one of the most successful in the country."
Fans or businesses can still purchase commemorative bricks and tiles. Bricks will be installed in a walkway outside of the north end zone of the stadium. Tiles will be installed on exterior walls of the stadium. Prices range from $75 for a 4-inch by 8-inch brick to $2,500 for a corporate/business display.
Additional information on the program is available by phone at 1-888-GB-BRICK (1-888-422-7425) or online at www.lambeaufieldbricks.com.