BMI Press Releases
Sales Exceed Quarter Million Dollar Mark and Show Nationwide Interest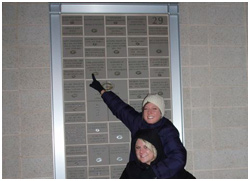 GREEN BAY, WI -- The Green Bay/Brown County Professional Football Stadium District today announced sales results for its commemorative brick and tile sales program, which was launched January 14, 2003. Sales topped the quarter million dollar mark on February 17th. Through this date, there were 1,439 orders processed and 2,128 items ordered resulting in gross revenue of $250,950 and an average order of nearly $175.
"Sales data show a strong national interest, as nearly one half of the orders are from outside the State of Wisconsin", said Greg Kuehl, Deputy Director of the stadium District. He also indicated, "Orders have come from 46 other states, Washington D.C. and Canada, and this widespread geographic interest definitely is a benefit to sales".
Wisconsin sales figures produced some interesting results. Of the 783 orders placed from within the state, 214 were from Green Bay—showing strong local support. Kuehl noted, "I am somewhat surprised by the fact that only 33 orders came from Milwaukee. This is less than the number of orders from a number of individual states including Illinois (76), Minnesota (79), California (42), Texas (36) and Michigan (47). Milwaukee is definitely Packers country; obviously, we need to improve awareness of the sale in that area."
"Fans or businesses can purchase either a commemorative brick or tile. Bricks will be installed in a walkway outside of the north end zone of the stadium. Tiles will be installed on walls in the Titletown Atrium. Prices range from $75 for a 4-inch by 8-inch brick to $2,500 for a corporate/business display.
Additional information on the program is available by phone at 1-888-GB-BRICK (1-888-422-7425) or online at the Packers official web site - www.lambeaufield.com/stadium_info/brick_sale/.