NEWS
Welcome to Brick Markers® USA news section. Please take a look at just a few of our fundraising projects. We use our patented state of the art technology to provide an inexpensive way to permanently engrave bricks, pavers and tiles for brick fundraising, donor recognition and memorials. Our engraving capabilities are endless and our products are backed by a written Limited Lifetime Warranty.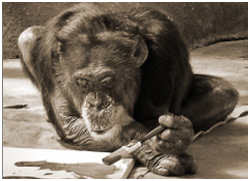 Bill The Chimpanzee
Bill the Chimpanzee was a resident at the Sequoia Park Zoo for fifty years and one of the oldest chimpanzees in captivity. He was at least sixty-two years old when he passed away from an age related illness in June of 2007. His companion Ziggy passed away in 1996 however after Ziggy's death, Bill showed no depression but instead responded enthusiastically to the added attention. He enjoyed interacting with his visitors and acknowledged them with a wave or a nod. Bill clearly preferred the companionship of his human keepers and his many visitors. Over the years he had been a loyal friend to many. Bill's former exhibit has been converted into a tribute garden in honor of Bill and Ziggy.. The garden features two fountains where their night quarters once were and a bronze statue of Bill stands between them along with his rope swing above. The paths of the garden are lined with bricks inscribed with special messages to Bill and Ziggy and to other loved ones within the community and Bill's ashes were placed under the engraved bricks. On the walls are the stories and photographs of the lives of these remarkable chimpanzees as well as the 100-year history of the Sequoia Park Zoo. Bill's Garden is a special corner of the zoo where patrons reflect, reminisce and appreciate the story of these two animals who shared their lives with the community. The personalized bricks help express what an important part of the zoo they were and how much they are missed. Brick Markers® is honored that we were given the opportunity to provide the engraved bricks found in Bill's Garden.
---
Tips To Create a Flyer for a Brick Fundraiser
It is important to first explain the reason for the project and how the money raised will help the community. The flyer should include a rendition to show where the engraved donor bricks will be installed and an order form. In order to increase your overall net profit, we suggest that you speak with local printing companies about the possibility of printing your flyers for free in return for a free engraved brick with their personalized inscription and logo. They are likely to accept the offer because this will be a great source of advertisement for them. We suggest that you take the same approach with a local installation company. It is essential to raise as much money for your cause as possible so it is best not to use the word "sale" within your flyer. Instead, it is better to use the word "donation".
---
Marketing Tips For Brick Fundraiser
Build a donor list: The Chamber of Commerce can provide you with a list of names and addresses of businesses in the City. Typically there is a fee for the list or they may require you to be a member of the chamber. Contact the main office of local universities for a list of students, alumni and staff. Contact your local utility companies and request that they insert your flyer into all of the utility bills. You can offer them a free engraved brick in appreciation. Promote on-site: Create a kiosk that displays custom engraved brick samples which will allow potential donors to see what they are purchasing. Build a website: Create a website that will allow donors to purchase an engraved brick online. Advertise: Ask the local newspaper to print a free press release outlining your project. Set up a kiosk at special functions or events and at the local shopping mall or grocery store. Create posters to place throughout your organization. Send email blasts to members, contacts and corporations and include within your newsletter.
---
General and Winter Maintenance of Clay Pavers
Winter Maintenance:
Low-pressure hose washers can be helpful when removing soil and detergents added to the water stream might speed the removal of soil. Unless the pavers have been contaminated with a material containing Portland cement, acid cleaners should not be used (acid cleaners must never be used on clay pavers.). Because all de-icing chemicals tend to cause efflorescence (white powder crust), snow should be removed by mechanical means such as power brushing (as long as there is no metal to paver contact), brooms, or plows (as long as the blades are flexible and made of rubber). Do not use shovels or ice scrapers as they will damage the pavers. Ice is best handled by spreading sand on the surface of the bricks. Salts, such as magnesium chloride, can be mixed with sand to speed melting. Remember, however, that any de-icing chemical is a soluble salt that may cause temporary bouts of efflorescence until spring rains wash away the remnants of the de-icing salts. Sodium chloride will not harm clay pavers. Calcium chloride can cause deterioration of clay pavers. The instructions on many chloride bags contain warnings that calcium should not be used on Portland cement concrete products or on clay pavers. Urea also may be used if there is no concern about killing plants. Urea does not cause efflorescence, but it is very expensive compared to calcium chloride and concentrations of nitrogen at the run-off points may kill vegetation.
General Maintenance:
Spray water with a garden hose on the area to be cleaned. Then apply a mild detergent, such as ProSoCo 600 detergent, to the area. Allow the cleaner to sit on the stained area for about ten minutes, but do not allow the cleaner to dry. You many need to agitate the cleaner to keep it moist. After the allotted time, you may scrub with a nylon bristled brush and rinse thoroughly. Be sure to protect plants and flowers prior to applying the cleaner and especially during the rinse cycle. If you wish to seal the units you must allow them 24 hours of drying before applying the siloxane/penetrating sealer. Do not use high-pressure water for cleaning, acid, steel brushes and always do a small test area before you do the larger areas. If you need a stronger cleaning solution you may use light duty restoration cleaner according to the instructions.
---
New Jersey Devils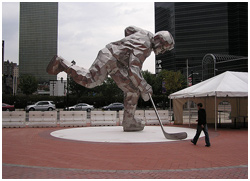 The New Jersey Devils have launched a commemorative brick program and Devils fans have the opportunity to purchase commemorative bricks inscribed with personalized messages to be installed at Prudential Center's Championship Plaza outside PNC tower. Devils fans can purchase a brick product that ranges from $150 for a 4x8 brick to $295 for an 8x8 brick. For each commemorative brick purchased, an authentic replica brick is included and shipped directly to the fan at a specified address for display at home or office. Also available are attractive replica display cases.
---
Lambeau Field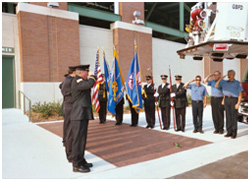 Brick Markers® has worked with the Green Bay/Brown County Professional Stadium District since 2003. The District's brick and tile program has now generated gross revenue in excess of $1.6 million and items have been purchased by fans in every state and several foreign countries. In consultation with the District, we have revised order processing procedures to meet changing needs of the program. Unlike many vendors, we do not use a generic approach but work with clients on both initial program customization and ongoing refinement to accommodate changing demand, maximize revenue and meet customer service expectations. The District will introduce internet ordering capability this year.
---
YMCA of Dodge County
The YMCA of Dodge County, Wisconsin built a premier $12.5 million facility that opened in September 2007. To help attain its fundraising goals, the organization selected Brick Markers® for its commemorative brick and tile program, launched on July 15, 2008. The program offers both individual and corporate bricks, tiles and arrays. Our laser engraving provides capability to produce highly detailed corporate logos which may not be able to be engraved using traditional methods. Our corporate logo products are a great way to maximize your fundraising potential.
---
University of Central Arkensas (UCA)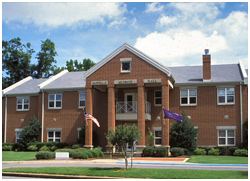 Brick Markers® was selected as the engraver for The Centennial Campaign for UCA. The brick campaign features three components focusing on Buffalo Alumni Hall, Half Century Alumni and a Senior Legacy Walk. Funds from the campaign are being used to foster the University's vision for the next century including scholarships, building new facilities, and supporting programs and projects not fully funded by the state.
---
Lambeau Field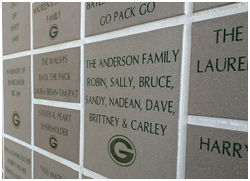 Brick Markers® USA, Inc. (BMI) is proud to announce our association with Lambeau Field. BMI has recently signed a contract with the Green Bay/Brown County Professional Football Stadium District (The District).
Read more
---
Pacific War Memorial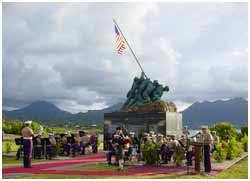 The Pacific War Memorial Association is pleased to announce that the Pacific War Memorial in Hawaii is now at the entrance to Marine Corps Base Hawaii. BMI provided the patented laser engraved bricks for this project and continues to work with Pacific War Memorial to memorize our fallen soldiers.
Read more
---
City of Athens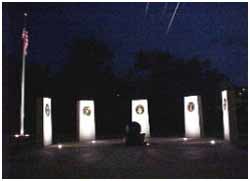 The Veterans Memorial Park Dedication took place at the Charles R. Ware Memorial on June 8, 2002. The November 2002 Dedication memorialized 483 new Veterans Commemorative Bricks.
Read more
---